Replacing Several Missing Teeth
Did you know that missing even a single tooth can significantly affect your smile and your ability to chew and speak properly? Not only this, the bone surrounding the lost tooth starts to degrade at an accelerated rate. As a result, the jaw bones start becoming weak and can fracture spontaneously. Therefore, it is really important that missing teeth should be immediately replaced.
If you have lost more than one teeth, then there is no need to worry. We have multiple treatment options at VIP Dental Implants for replacing your teeth and restoring your smile.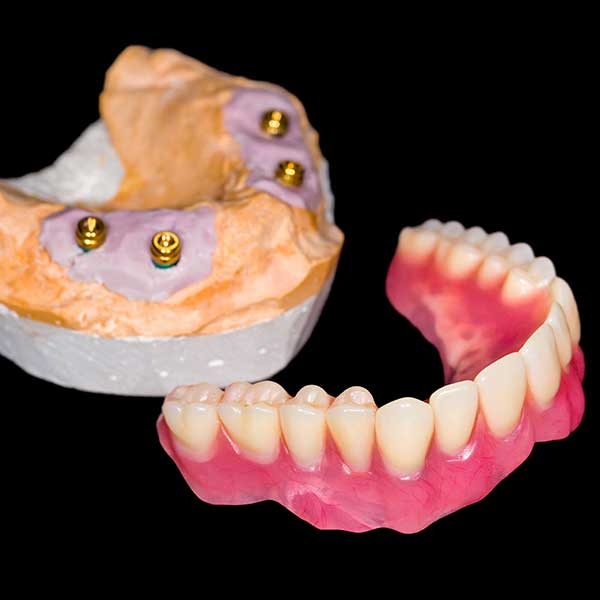 1. Partial Dentures
Dentures are removable appliances which are used for replacing one or more teeth. They gain their support and retention from the adjacent natural teeth and the underlying jaw bones and soft tissues. The removable dentures are prepared from pink colored acrylic resins to mimic the gums, while the artificial teeth used with removable dentures are made from tooth-colored acrylic resin or porcelain.
Partial dentures contain metallic extensions known as clasps which engage around the natural teeth and provide added support and retention to the prosthesis.
What are the Pros and Cons of Removable Dentures?
Removable partial and complete dentures are a time-tested and reliable option when it comes to replacing more than one teeth. They also possess reasonable aesthetics, especially when porcelain teeth are used for making the dentures. Most importantly, removable dentures are cost-effective and they can be used for replacing teeth in patients who cannot afford more expensive tooth replacement options
On the other hand, removable partial dentures have a limited lifespan. They are also unable to completely restore your chewing and speech efficiency. Another problem associated with the removable dentures is that they are brittle and can fracture if they dropped accidentally. Finally, they tend to get stained easily and therefore need to replace frequently. One of the most important drawbacks of removable dentures is that they exert direct forces on the underlying bone which accelerates its degradation rate. Therefore, wearing dentures for a long time can weaken the jaw bones.
Our patients love being treated at our locations, with consistent 5-star ratings across the board.
I can honestly say I had highly recommended experience at URBN Dental. I am new in town and had a emergency. The staff was able to get me in asap and took very good care of me. Everyone worked as a team to ensure that all my needs were meet. I felt important! I was treated as if I was the only patient in the office. I found my Dental home!
Imelda Goodly
The staff here is extremely friendly and professional. From the very beginning, the staff greeted me with kindness and respect. My paperwork was filled out within 15 minutes and afterwards, the dentist called me back almost immediately.
Lemond Deleo
Very knowledgeable and informative, explaining all your x-ray and imagery and in creating a course of treatment. The staff is friendly and definitely concerned with their patients. Comfortable environment.
Melisa Radford
I am not the biggest fan of the dentist, however this was the BEST dentist experience I have ever had! Everyone was so kind and I got everything I needed done in one visit!
Allie Hackett
Excellent service. Great first impression! Best cleaning I've had in several years, my mouth feels amazing. They even took the time to show me how to brush more effectively. My teeth are back to being pearly white.
Michelle Campbell
They were very prompt and professional. I felt very comfortable in the visit. They have good exam specials without any hidden fees. I have found me a permanent dentist office. Thanks URBN staff.
Shayla Williams
URBN Dental provided great service and they were all so nice. They did a great job communicating with me and i would recommend to all.
Emmelyn Nguyen
I had a root canal and a crown done here, the entire process took about an hour. Will be back in 2 weeks for my final crown! Great doctor, great staff.
Michael John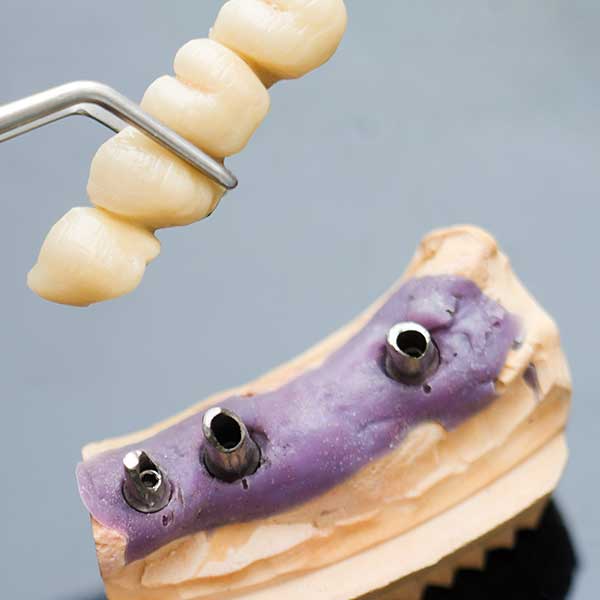 2. Dental Bridges
Another reliable option available for replacing your teeth at VIP Dental Implants is the dental bridges. These are removable appliances which gain their support from the adjacent natural teeth or implants. Unlike the removable dentures, the bridges remain permanently remain attached to the supporting teeth, or the abutments. Each abutment tooth receives a crown at both ends, to which the artificial teeth or the pontics are attached. In this way, dental bridges can be used for replacing one or more natural teeth.
What are the Pros and Cons of Dental Bridges?
Compared to the removable dentures, bridges provide superior eating and speech efficiency. This is because the bridges are fixed appliances which do not move or slip while performing daily routine activities. Also, the artificial teeth used with bridges are made from high-quality porcelain which provides excellent esthetics and a lifelike appearance. With proper care, you can expect the bridges to last for more than 10 years.
On the other hand, one of the biggest disadvantages of bridges is that they need the removal of healthy tooth structure for their attachment. In addition, there are chances of food impaction beneath the bridge which can result in the development of secondary cavities and gum problems in the adjacent teeth. Finally, in comparing with the removable dentures, replacing teeth with bridges is a more costly option.
3. Dental Implants
Dental implants are undoubtedly the most commonly used option for replacing teeth. This is because the implants are extremely durable, and they look and feel just like natural teeth. An implant is a metallic fixture shaped like a screw which is inserted into the jaw bone and it serves as the replacement root. Once the implant has become firmly anchored into the bone, a prosthesis is attached to it, depending on the number of teeth which need replacement.
When it comes to replacing several lost teeth with implants, there are several options for choosing artificial teeth. Commonly, missing teeth are replaced by attaching a removable denture over the implants, also known as an overdenture or an implant-supported denture. Alternatively, a bridge can be placed over the implant to replace up to three or four teeth. These implant supported bridges combine the excellent strength and durability of implants with the esthetics and reliability of the implants.
What are the Pros and Cons of Dental Implants?
Dental implants are made from high-quality titanium alloys which make them extremely strong, durable and safe for use in the human body. Also, they possess a unique capability known as osseointegration which allows them to form an intimate contact with the surrounding jaw bone. This helps the implants in becoming strongly embedded within the bone, thereby providing a solid foundation for the prosthesis which is attached to them for tooth replacement. Therefore, they restore the ability to eat and speak without any difficulty.
The only drawback associated with dental implants is their high cost of treatment. However, considering their lifelong service, functionality and lifelike esthetics, their initial high-cost of treatment proves to be a wise decision.
When it comes to replacing a lost natural tooth, VIP Dental implants offer several options. Our dentists will recommend the option which best suits your dental and esthetic needs after examining your teeth and assessing your oral health status.
Take your first step towards a beautiful and charming smile by getting your teeth replaced at VIP Dental Implants. We would love to hear from you!