It was not until a decade ago that the only option for replacing all missing teeth in a jaw were removable complete dentures. These dentures not only lacked in aesthetics, but also in function and durability. As a result, an alternative tooth replacement options was sought, which overcame the drawbacks of removable dentures. This search ultimately lead the development of the all-on-four system, which is currently the most popular and reliable option for replacing all missing teeth in a jaw.
All-on-Four Implant
The all-on-four implant system refers to a fixed complete denture that is supported by only 4 implants which are strategically placed in each jaw. Usually, two implants are placed in the front region of the jaws, while two tilted implants are placed at the back to provide retention and stability to the overlying
dentures. The dental implants provide a firm foundation for the attachment of the prosthesis, which in turn provide excellent esthetics, chewing and speech efficiency. In cases where additional support is required, up to 6 or 8 implants may also be used in each jaw.
Who Can Benefit from All-on-Four Implant Supported Dentures?
The all-on-four implant system has been designed for the rehabilitation of patients who have lost all teeth in their jaws. Some of the clinical situations where they prove to be useful are:
Complete Teeth Replacement – an All-on-Four implant-supported fixed denture can be used for replacing all missing teeth in a jaw. This is done by placing a complete fixed bridge over the implants.
Rehabilitation of Severely Compromised Teeth – in cases where the patient's existing teeth have generalized teeth cavities or severe infection, and they are not expected to remain functional for a long time, these teeth are removed and replaced with an all-on-four implant-supported prosthesis.
Full-mouth Rehabilitation – if all teeth of a patient are missing in both jaws, then the best option for their replacement is the attachment of an all-on-four prosthesis in both jaws.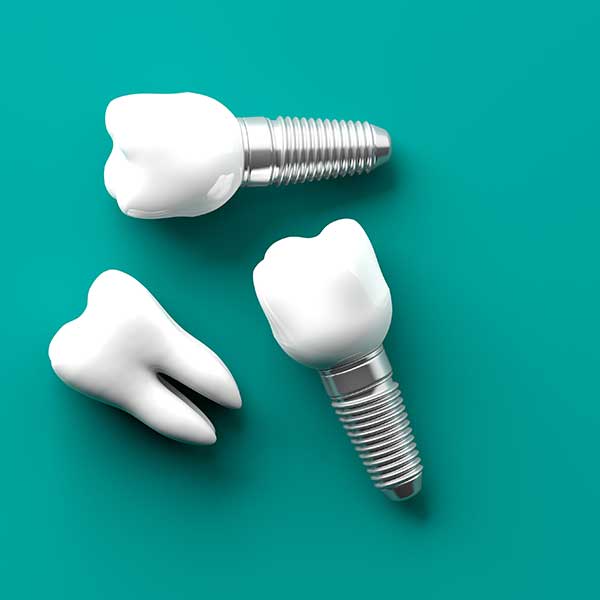 The All-On-Four Implant Procedure
The earlier mention of a hole being drilled into the jaw may have scared you. But do not worry. Drilling is quite common in dentistry. A root canal involves deep drilling, and you might have had at least one root-canal treatment already. Although the implant procedure needs more precision but is quite safe and as painless. The following major steps are involved.
Suitability Evaluation and Discussion – our dentist at URBN Dental will discuss your dental and medical history and carry out an oral examination of your teeth and gums. X-ray evaluation of bone quality and mass is required to ensure that the jaw bone can support the implants under routine chewing loads. After the evaluation, we will discuss with you your options and the cost impact. Once you have decided to go for an all-on-four, we will prepare a treatment plan which has been customized according to your dental and esthetic needs.
Extraction of Any Existing Failing Teeth – before placing dental implants for an all-on-four prosthesis, the remaining diseased for failing teeth, if present is extracted under local anesthesia. You will have to wait for a few weeks to allow for the healing of the extraction site. In some cases, our dentist may choose to place implants immediately after the extraction.
Placement of Implants – Next, our dentist will drill four holes into your gum, two towards the rear, and two towards the front. The locations and the angulations of the holes are carefully planned by your dentist according to the bone geometry in your jaws. This will ensure an optimum load-bearing capability for your implants.
Implant Loading – After the implants have been screwed in their position, the surgical site is sutured and is allowed to heal. Once complete healing has taken place, a suitably designed fixed complete denture is attached to the four implants. However, in some cases, dentists may choose to attach the dentures immediately after implant insertion.
Our patients love being treated at our locations, with consistent 5-star ratings across the board.
I can honestly say I had highly recommended experience at URBN Dental. I am new in town and had a emergency. The staff was able to get me in asap and took very good care of me. Everyone worked as a team to ensure that all my needs were meet. I felt important! I was treated as if I was the only patient in the office. I found my Dental home!
Imelda Goodly
The staff here is extremely friendly and professional. From the very beginning, the staff greeted me with kindness and respect. My paperwork was filled out within 15 minutes and afterwards, the dentist called me back almost immediately.
Lemond Deleo
Very knowledgeable and informative, explaining all your x-ray and imagery and in creating a course of treatment. The staff is friendly and definitely concerned with their patients. Comfortable environment.
Melisa Radford
I am not the biggest fan of the dentist, however this was the BEST dentist experience I have ever had! Everyone was so kind and I got everything I needed done in one visit!
Allie Hackett
Excellent service. Great first impression! Best cleaning I've had in several years, my mouth feels amazing. They even took the time to show me how to brush more effectively. My teeth are back to being pearly white.
Michelle Campbell
They were very prompt and professional. I felt very comfortable in the visit. They have good exam specials without any hidden fees. I have found me a permanent dentist office. Thanks URBN staff.
Shayla Williams
URBN Dental provided great service and they were all so nice. They did a great job communicating with me and i would recommend to all.
Emmelyn Nguyen
I had a root canal and a crown done here, the entire process took about an hour. Will be back in 2 weeks for my final crown! Great doctor, great staff.
Michael John
Recovery
The recovery time for the all-on-four is about a week compared to the regular implant procedure. If beading persists after one day, rinse the mouth gently with salt water. In the following days, avoid bending over, lifting heavy stuff, or any strenuous activity that may promote bleeding.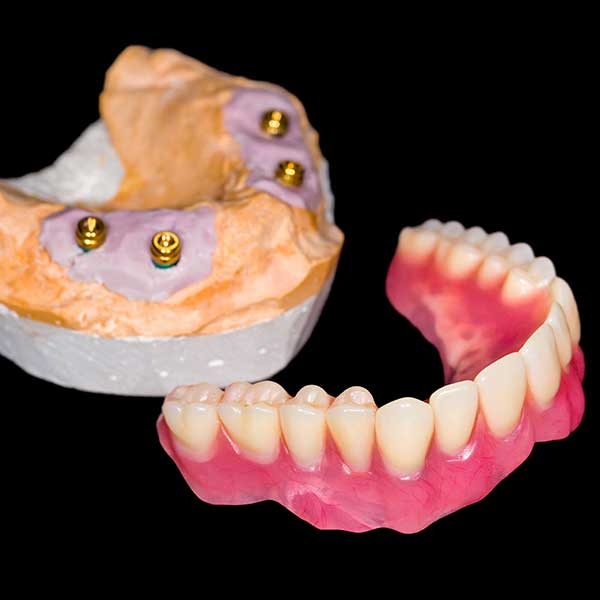 Advantages of All-on-Four
All-on-four implants are becoming extremely popular because of their multiple advantages even over the traditional implants. These are:
Relaxed Bone Requirements– Traditional implants need sufficient bone mass of good quality. The all-on-four do not have as stringent requirements. The implant locations are chosen carefully to utilize existing bone, and the implants are placed at suitable inclining angles to allow for a longer length, giving a better load bearing
Cost-effectiveness – It may seem that one implant is required for replacement of each missing tooth. In reality, a complete denture can be supported by using only 4, 6 or 8 implants in each jaw. Although the all-on-four dentures are still much expensive than the conventional dentures, yet they are much stronger durable. Therefore, they prove to be a cost-effective option in the longer run, as you require a minimum number of implants for complete tooth rehabilitation.
Number of Visits– Traditional implant supported dentures involve a number of visits and months of healing time. The all-on-four procedure reduces the number of visits, and normally patients do not have to wait for the months for complete healing to take place.
Cost of All-on-Four
The cost of all-on-four dental implants varies depending on the material used for the artificial teeth. It can also vary from place to place and country to country. Generally, if acrylic teeth are used, the procedure can cost from $30000. If porcelain teeth are involved, the cost may go up by about $5000 to lie from $25000 to$35000.
After-care
For the first few days after the surgery, it is best to use liquids and soft diet. In any case, do avoid foods which cause you pain. That means you are overloading the implants. At the same time, make sure that you are getting sufficient nourishment to promote bone formation around the implant. If you notice or feel a persistent unusual condition do report to the dentist.
A lasting, healthy and beautiful smile awaits you at URBN Dental. So, what are you waiting for? Visit us today and let us take care of all your dental problems.